Pathaan Success Meet: Deepika Padukone's kiss to Shah Rukh Khan; SRK-John Abraham's bromance- 7 BEST moments
Pathaan, starring Shah Rukh Khan, Deepika Padukone and John Abraham, has taken the box office by storm. The movie, helmed by Siddharth Anand, has been roaring at the box office ever since it was released. Amid the wave of success, SRK, Deepika, John and Siddharth Anand decided to come together to speak on the historic hit created by the film at the global box office. At a press meeting held in Mumbai on Monday, Shah Rukh Khan interacted with the media, and expressed his joy over the film's success. We also got to witness some adorable moments between Shah Rukh Khan, Deepika Padukone, and John Abraham!
Best moments from Pathaan success meet in PICS
Pathaan success meet, which took place today in Mumbai, saw some incredibly cute moments! While Deepika Padukone was dressed in a multi-coloured floral midi dress by Gauri and Nainika, Shah Rukh looked dapper in a black suit. From Deepika Padukone planting a kiss on SRK's cheek, to Shah Rukh and John Abraham's bromance- here's looking at some of the best moments from the press meet.
Fans went gaga the moment Shah Rukh Khan, Deepika and John arrived on stage. Before taking their seats, Deepika was seen cutely planting a kiss on Shah Rukh's cheek. The moment was just too adorable! 
Shah Rukh Khan and Deepika Padukone engaged in fun banter and here's another adorable moment from the press meet of Pathaan!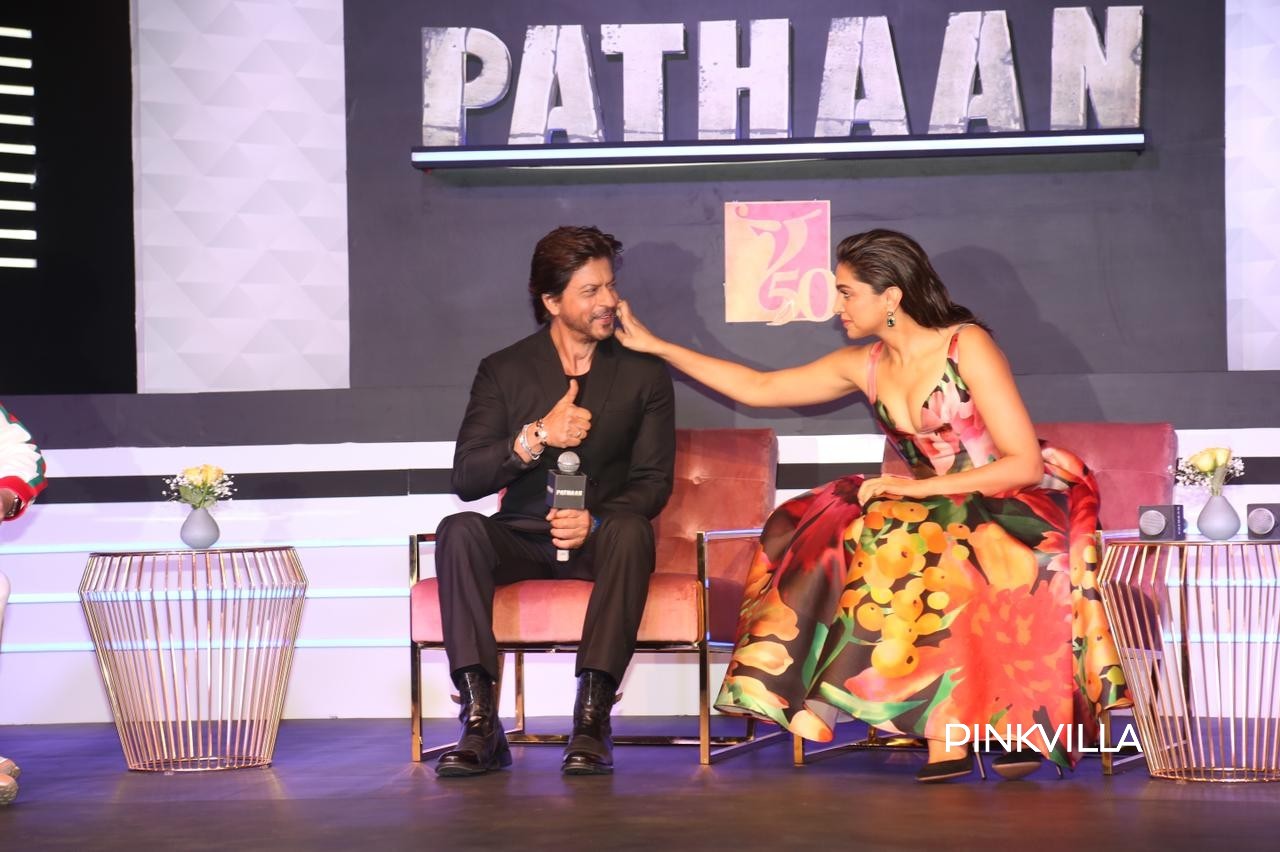 Not just Deepika, Shah Rukh Khan also shared a cute moment with John Abraham! Their bromance was on disaplay at the event, and SRK was seen kissing John's cheek while the latter smiled.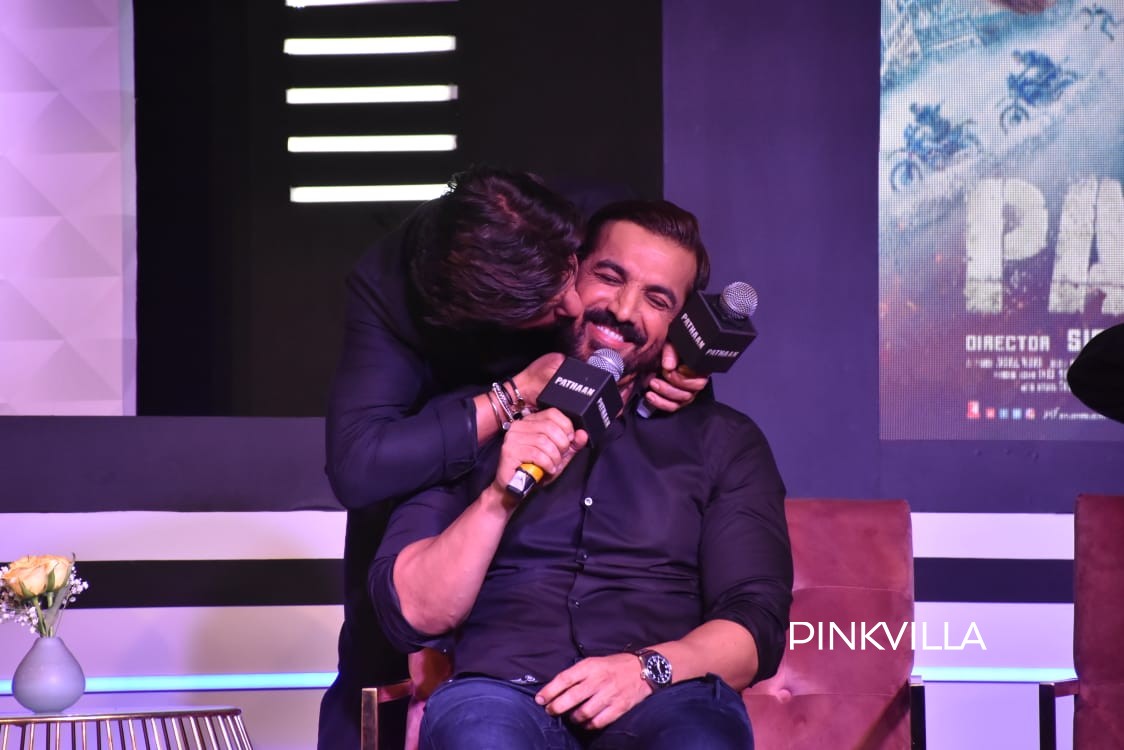 Deepika Padukone got emotional at the press meet over Pathaan's success at the box office. She said that they set out to make a good film, but didn't think that it would break records. She also thanked Shah Rukh Khan and said, "Whether it's Om Shanti Om, Chennai Express- what makes it special is the relationship we share, the trust. I wouldn't be here today, if it wasn't for SRK and his vision for me. To shower me with so much love and grace. He has given me confidence and even he doesn't know that. I do what I do because I know Shah Rukh will always be there for me."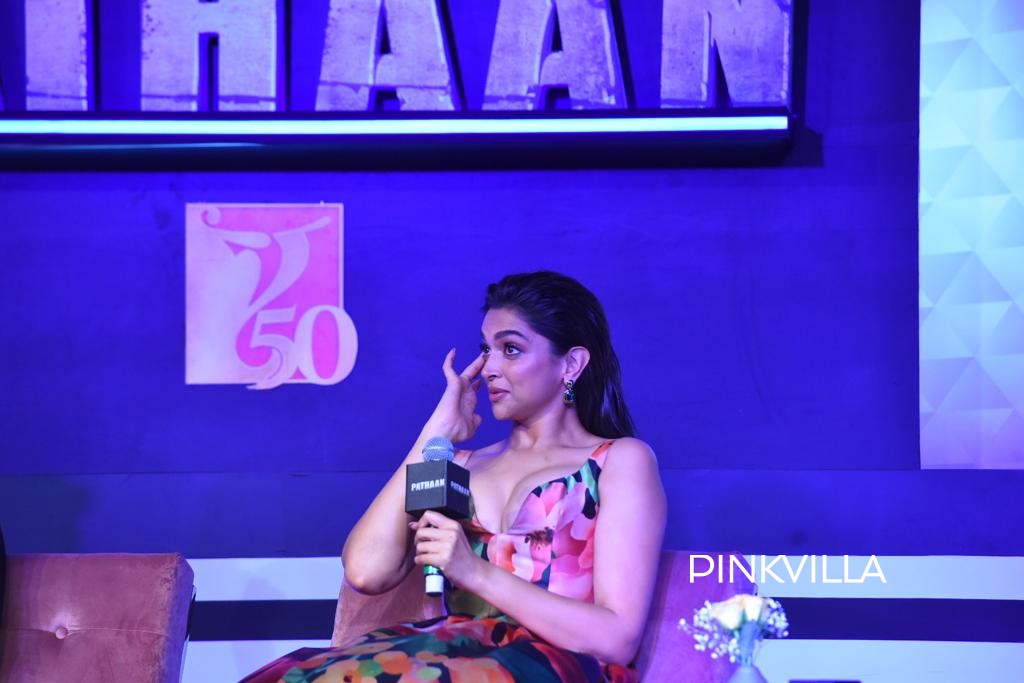 Shah Rukh Khan was also seen flaunting his signature pose, and the crowd went gaga over him! John Abraham is seen clapping for SRK in the background.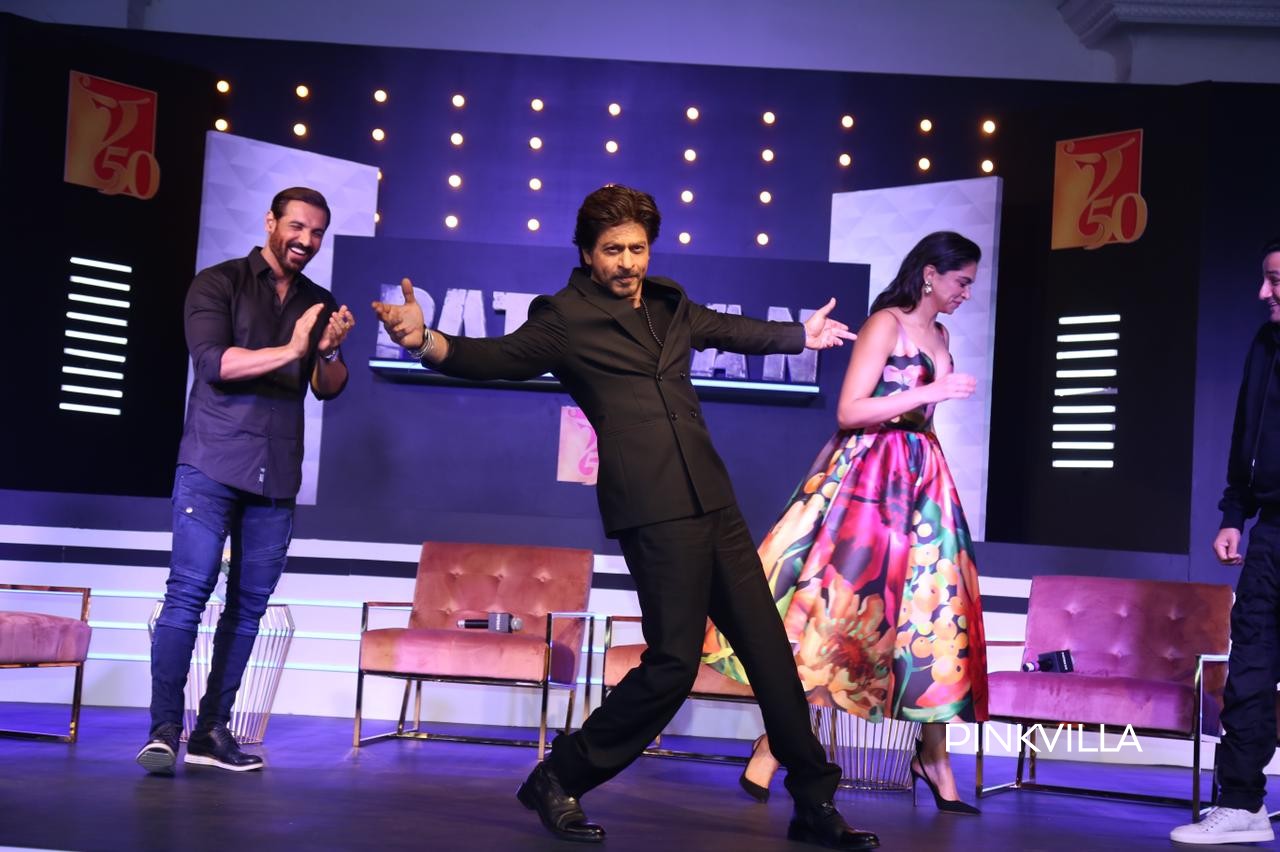 The trio of Pathaan- Shah Rukh Khan, Deepika Padukone and John Abraham were all smiles as they came together for a picture. John and SRK wore black outfits, and posed on either side of Deepika Padukone.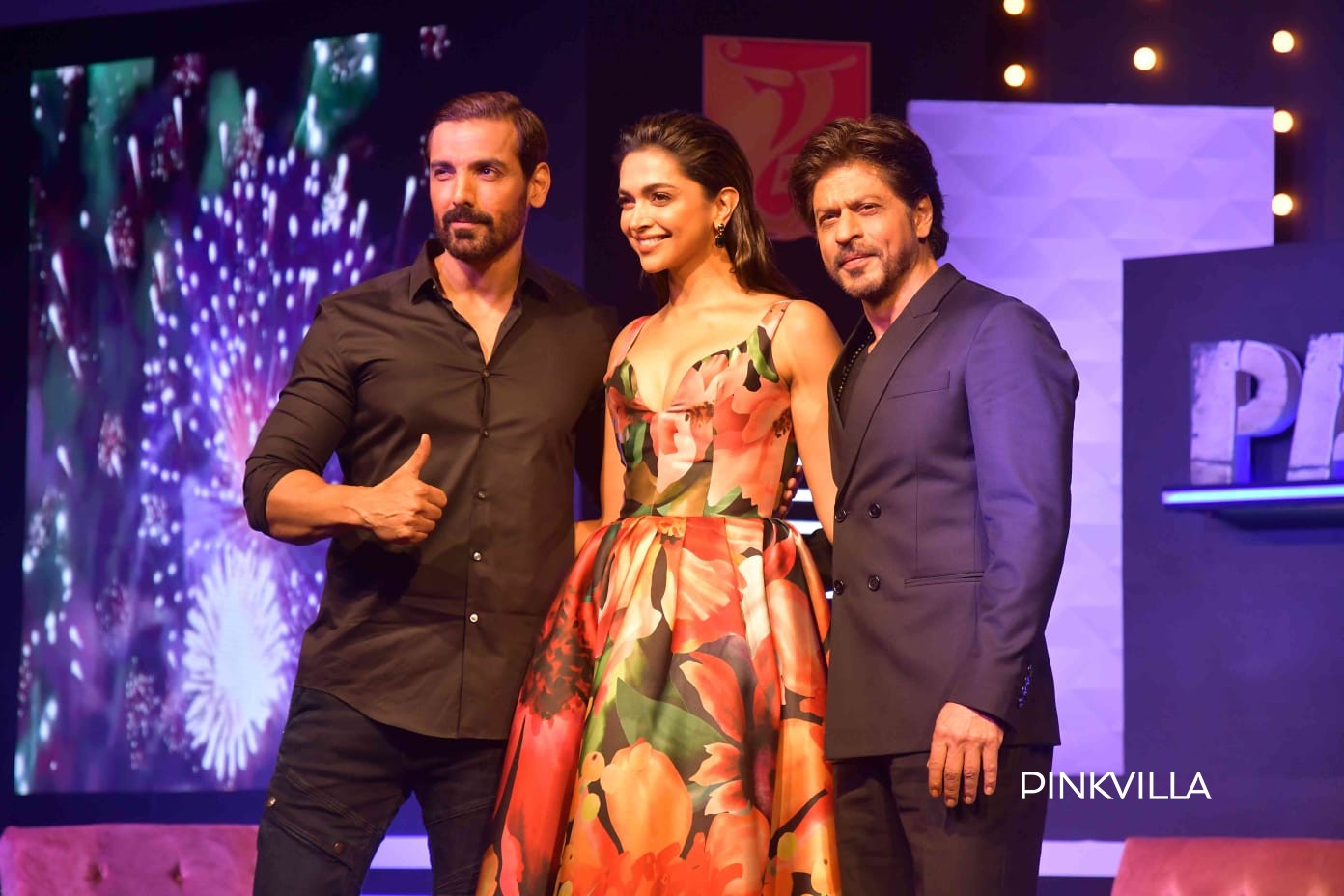 Here's a picture of Shah Rukh Khan, Deepika and John with the film's director Siddharth Anand. Pathaan is roaring and breaking records at the box office, and the team couldn't be any happier.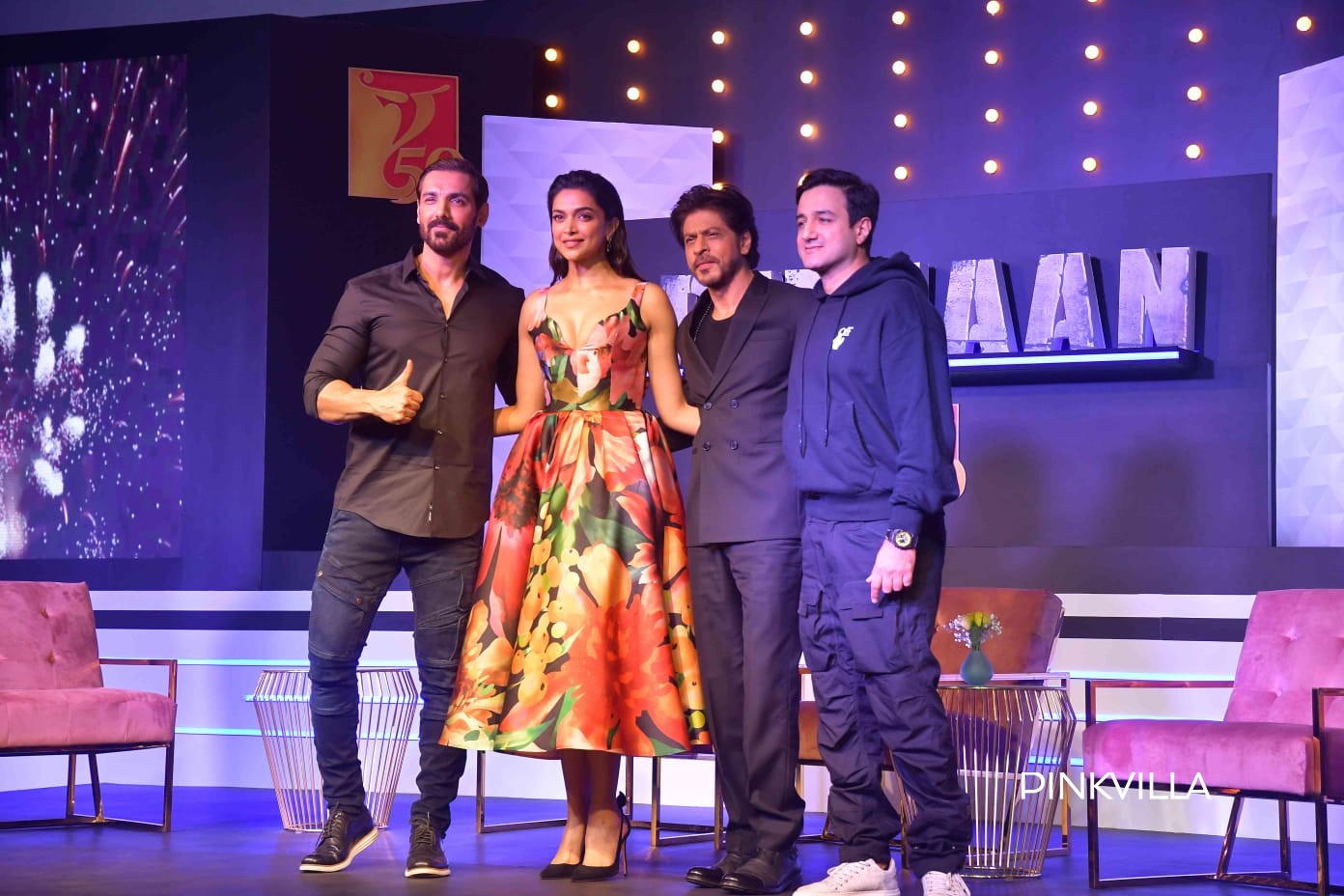 Aren't these pictures just adorable? 
ALSO READ: Deepika Padukone on her bond with Shah Rukh Khan: 'I wouldn't be here today if…'