How to nail your winter style & chic knitwear that's not just for Christmas — That's Not My Age
I've never watched Love Actually and I've never worn a novelty knit and this holiday season I intend to keep it that way. Call me a Northern Miserablist if you like ( I am looking forward to the new series of Happy Valley) but I have decorated the bigger-than-usual tree and posted my Christmas cards. It's not all Bah Humbug round these parts.
At this time of year, I really like to play around with my favourite heritage fabrics. Blending different textures and patterns: midnight blue velvet and Lurex, striped lambswool and a Prince of Wales check, herringbone tweed over a Fair Isle knit; to conjure up new combinations. Much better to work with what you've got rather than getting caught up with festive frivolities. This coat was from Jigsaw last year ( there's an updated version in the latest collection), I've been wearing it more this winter with my lovely jumbo cord trousers, patterned knit and an old pair of pointy shoes. These are all classic winter items but the overall effect is chic, not contrived. Easy pieces to go from one season to the next and not end up in landfill. Playing the long game…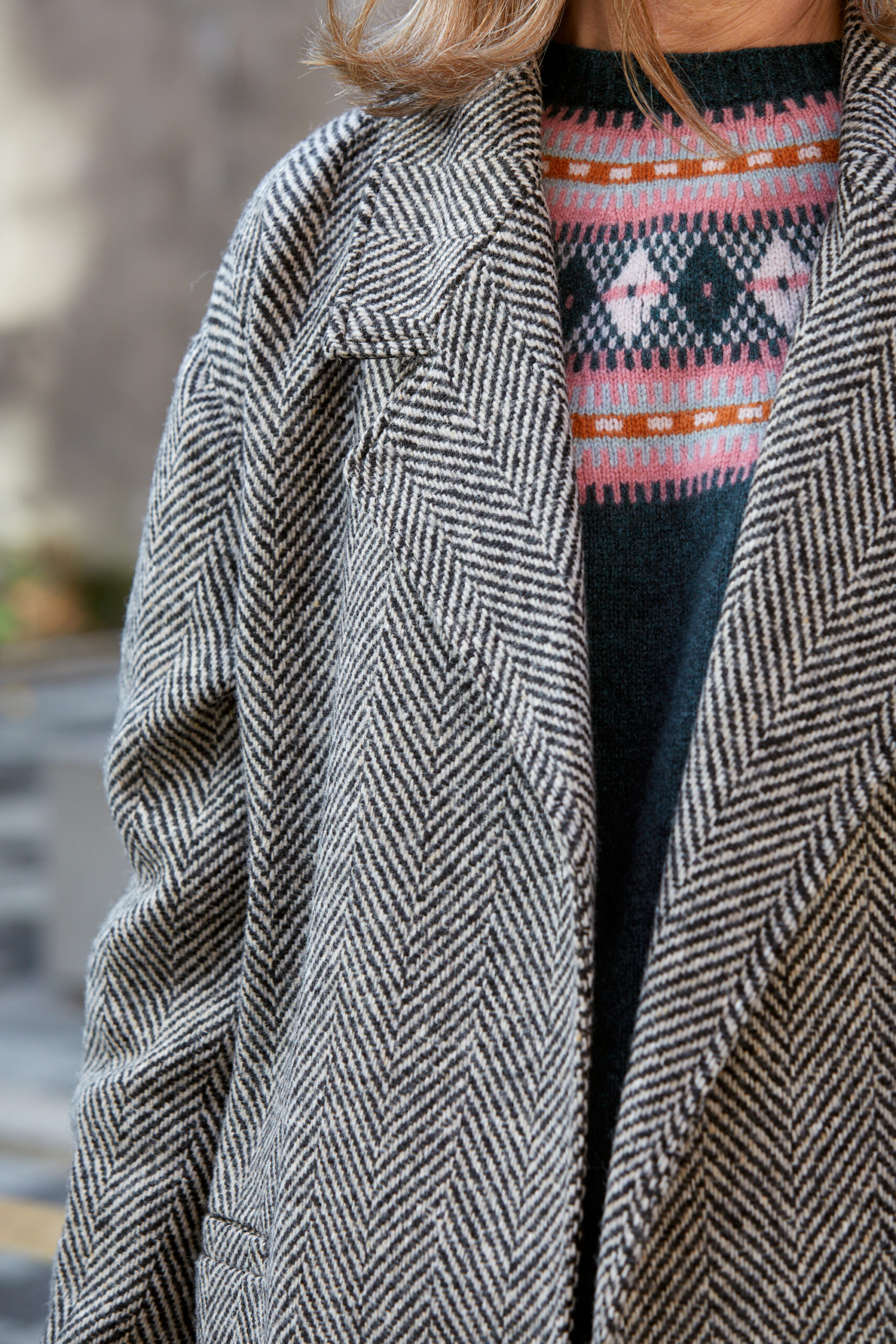 Knitwear can be festive without being throwaway. Choosing timeless designs such as an argyle pattern or beautiful cable knit, means your jumper won't look tired once the tree comes down. The sweater I'm wearing here is the 'Nordic Fairisle' in Woodland colours, a lovely, early Christmas gift from Quinton and Chadwick. The dusky pink, chestnut and teal combination is seasonal enough to swerve any Scrooge comparisons, but subtle enough to go the distance. On relaxed days WFH, the patterned jumper goes with jeans and Birkenstock mules but, when I want to leave the building, it works a treat in tandem with corduroy and tweed. Over the holidays, I'll bring on the sparkly earrings and velvet slippers to add an extra-sumptuous spin.
Here are six more clothing companies who specialise in chic knitwear designed to last. Natural yarns all the way:
Let's talk about Community Clothing founded by Our Patrick – did you see him on Question Time, last week? He spoke eloquently and openly about the state of things in the UK, right now. Bravo. This Fair Isle patterned jumper, modelled by Mr Grant, looks like it's straight out of 1970s skiing commercial. And that is a good thing.
' Not a lot of clothes, just the right clothes,' is what the US label Alex Mill has to say about considerate consumption. Though predominantly available in North America, a selection of designs (including a snazzy pink Fair Isle tank top and matching cardigan) are available in the UK, from Net-A-Porter (unfortunately not this colourful checkerboard design which keeps grabbing my attention).
& Daughter is a super-cool, slow knitwear brand working with British and Irish mills to create vintage-inspired Aran jumpers and cable-knitted cardigans. The bright red, wool waistcoat will see you through the festivities and beyond (and it's 50% off in the sale).
Designer Justine Tabak  has added a small selection of pure wool, 'heirloom' knitwear –  including toasty jumpers and Fair Isle designs – to her signature collection of dresses. Everything is made in the UK.
I'm a big fan of Brora's vintage-inspired knitwear. The slow fashion label, makes all its knitwear in Scotland and has been carbon neutral since 2021. As founder Victoria Stapleton says, ' The ethos of Brora is the same 30-years on: to create beautiful fashion that is stylish yet timeless.'
And if you're looking for a longer-length cardigan to throw on over the holidays, check out the tartan-ish  Veda organic cotton and wool cardi coat from Thought Clothing, now half-price.
More 'know your style' tips HERE. And more knitwear that's not just for Christmas:

That's Not My Age is supported by its audience. When you purchase through links on our site, we may earn commission on some of the items you choose to buy.