5 Interesting facts about Masaba Gupta-Satyadeep Misra wedding
Masaba Gupta took everyone by a pleasant surprise this morning after she dropped pictures from her dreamy wedding with Satyadeep Misra. The couple who met on the sets of their web show Masaba Masaba, hit it off instantly and has been dating each other since then. The two kept it quite an intimate affair and did not let a word out about their wedding or their wedding prep. We know that a lot of you are quite interested to know about all the intricate details about their wedding. So scroll down to read 5 interesting facts about their wedding.
Masaba Gupta-Satyadeep Misra's wedding details
1. An after-party with 80-85 people
Masaba Gupta revealed that she had a simple court marriage. She added that their idea was to keep it very small and they wanted to tie the knot in the presence of their immediate family.  She also said that they will not be celebrating it in a big way and going forward there will be a party with close friends and family. There will be around 80-85 people at the party who have had a meaningful relationship with her and Satyadeep Misra.
2. On opting for an intimate ceremony
Masaba Gupta also opened up on why she and Satyadeep chose to get married in an intimate ceremony. She said that they both were conscious of not wasting ridiculous amounts of money. "We are extremely private people and we want to be in the presence of family and loved ones for memorable days like these. We've both been there before and we saw that it doesn't make sense to do things that stress you out on such an important day. This is truly a private moment for both of us, and more than anything, we wanted to enjoy it. I think the mistake couples sometimes make is that it becomes more about the outward validation of what you're doing to please people. I didn't want any of that. We both didn't. We wanted to make this about ourselves."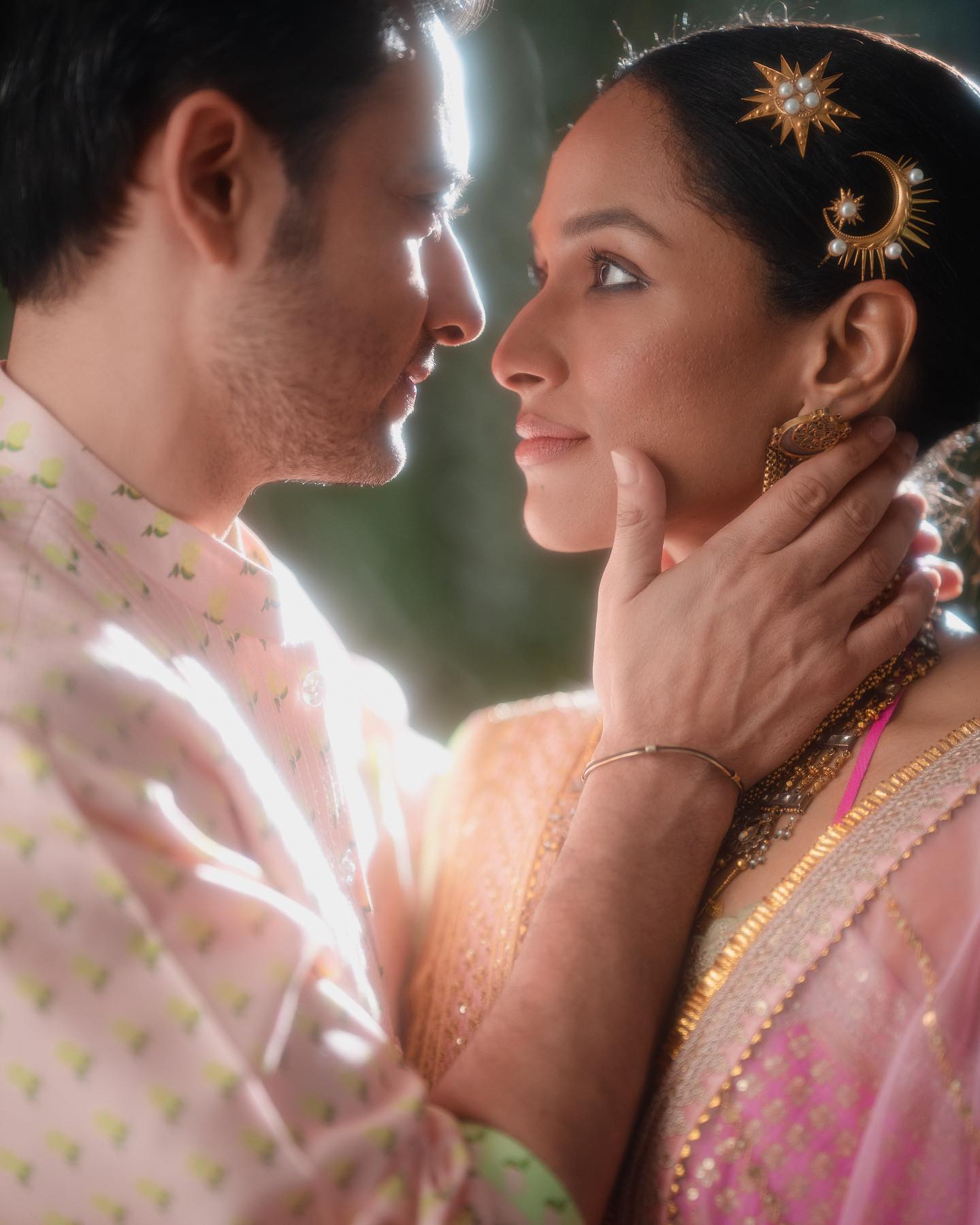 3. Dad Viv Richards attending the wedding
Masaba Gupta's father Viv Richards flew down from the Caribbean and that meant a lot for Masaba. She said that this was the first time in her life that her stepfather, her father, her mother, her mother-in-law are all going to be in the same room celebrating together and that for Masaba was the biggest moment of her life. She further added that she wanted this to be intimate.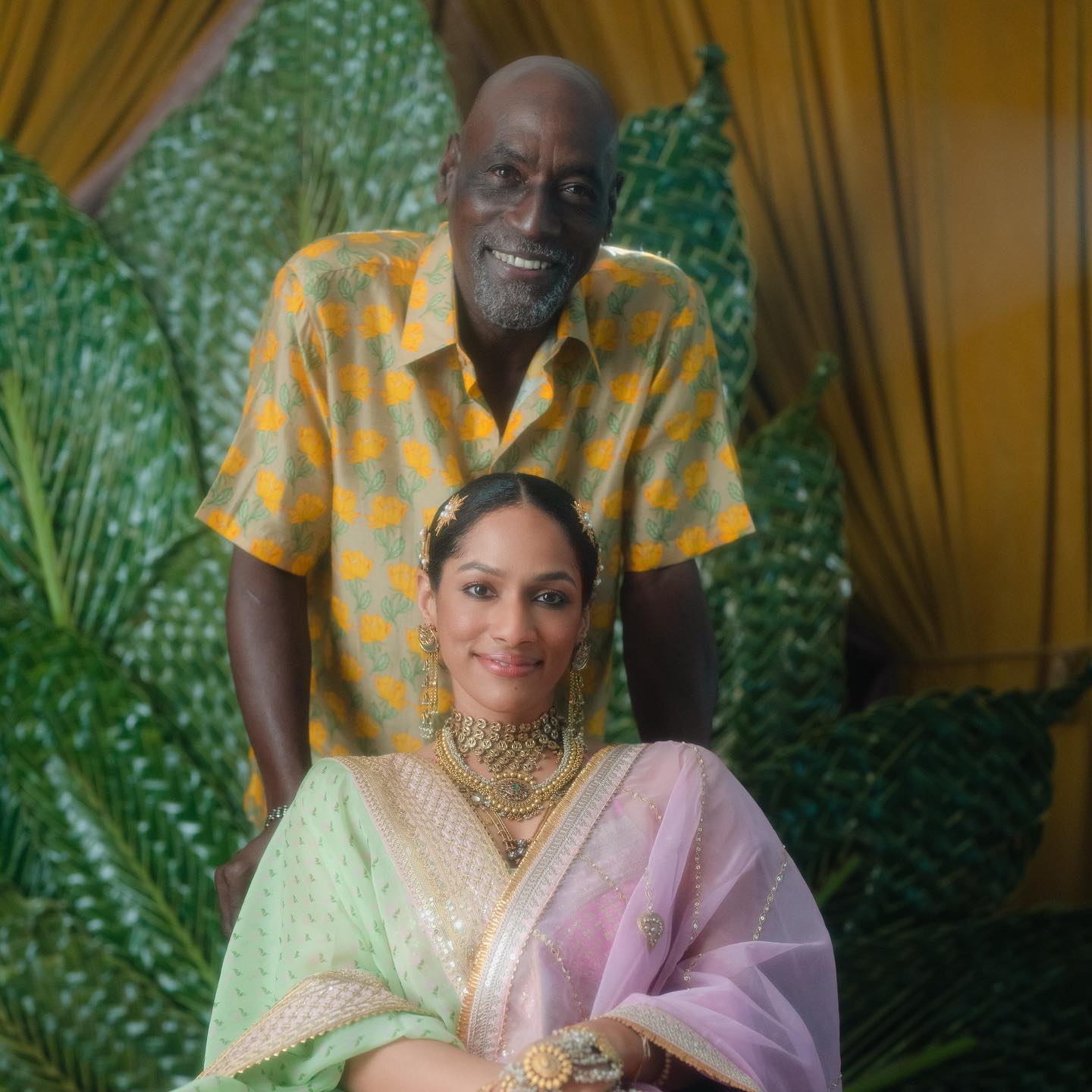 4. Bride and Groom's wedding outfits
Masaba Gupta and Satyadeep Misra both wore House Of Masaba's new bridal collection which is yet to be launched. She revealed that the entire family is also dressed in the House Of Masaba. "I have been working on this collection for a long time now, and with it, I wanted to break the idea that Indian brides should wear dull pastel colours likes whites, and ivory. I feel India is a country of celebration and colour, and wedding wear should reflect that."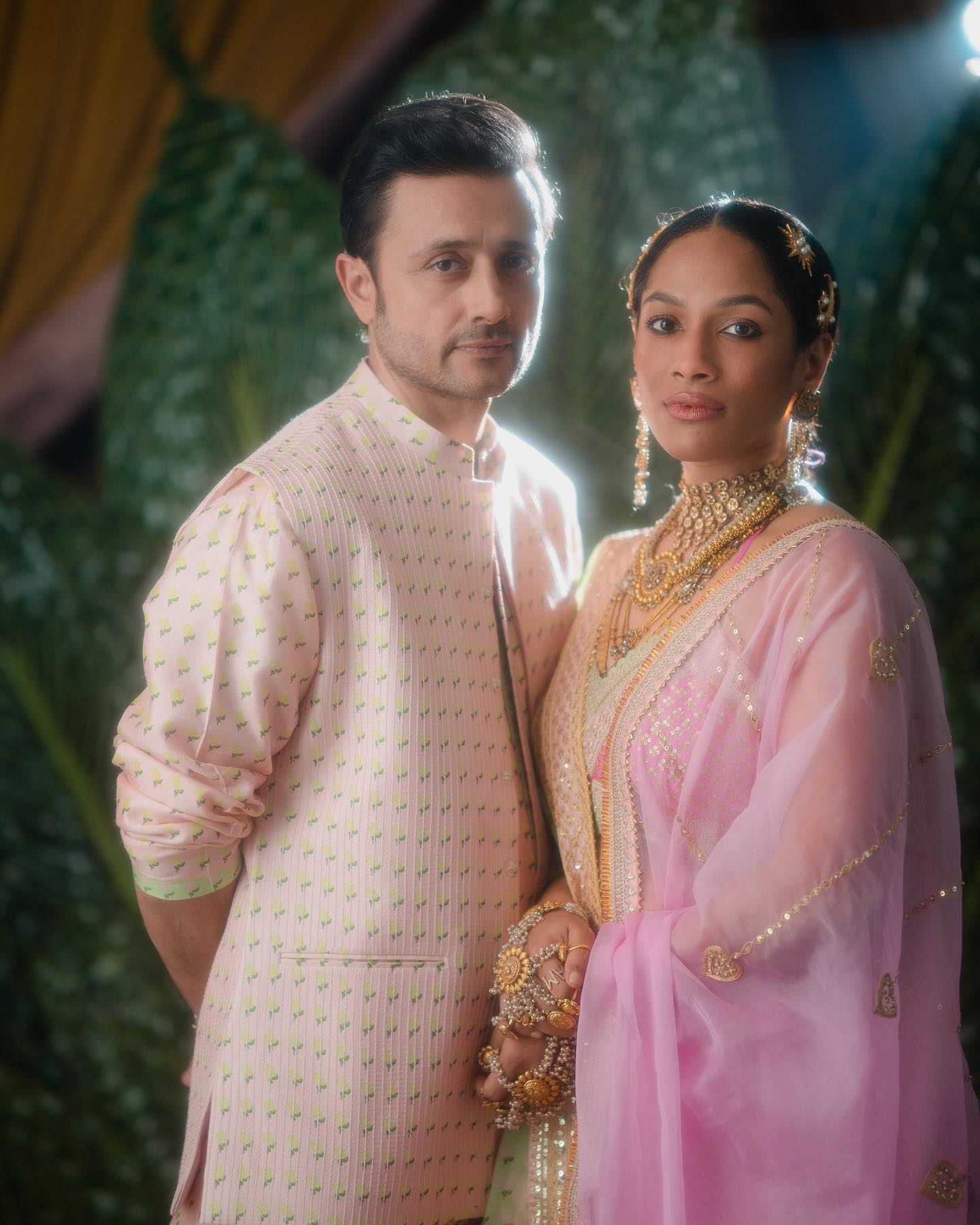 5. Colour code of the families outfits
Masaba Gupta revealed that she wanted the entire family to wear House Of Masaba and wanted them to wear it in yellow tones while the bride and groom will be in Pink hues. Explaining everyone's outfits, Masaba said, "Satyadeep is wearing the barfi pink wallflower bandi and a comfortable kurta-pyjama. I think when it comes to men's wear, simplicity is the future of weddings, grooms included. Mom (Neena Gupta) is wearing a beautiful mint green candy swirl printed organza saree with an embroidered border and gota work in the pallu. We've paired it with a rosehip blouse and a scalloped neck for her. She's the mother of the bride, so she has to be extremely comfortable. Her husband–Vivek, is wearing a mustard kurta with a hint of print. My father is wearing a beige-yellow kurta. The other attendees are wearing saris and kaftans. The idea was to put people in things they enjoy wearing."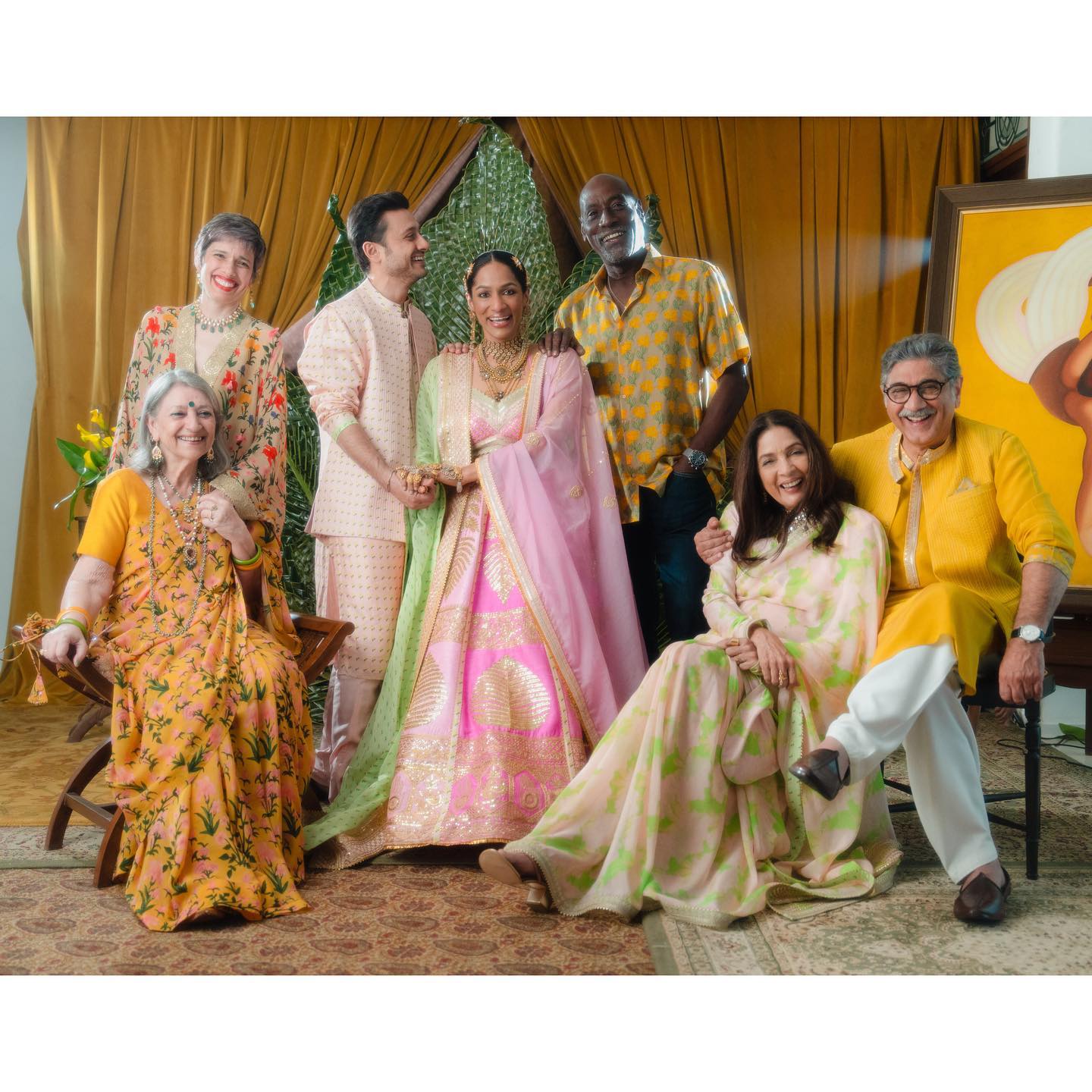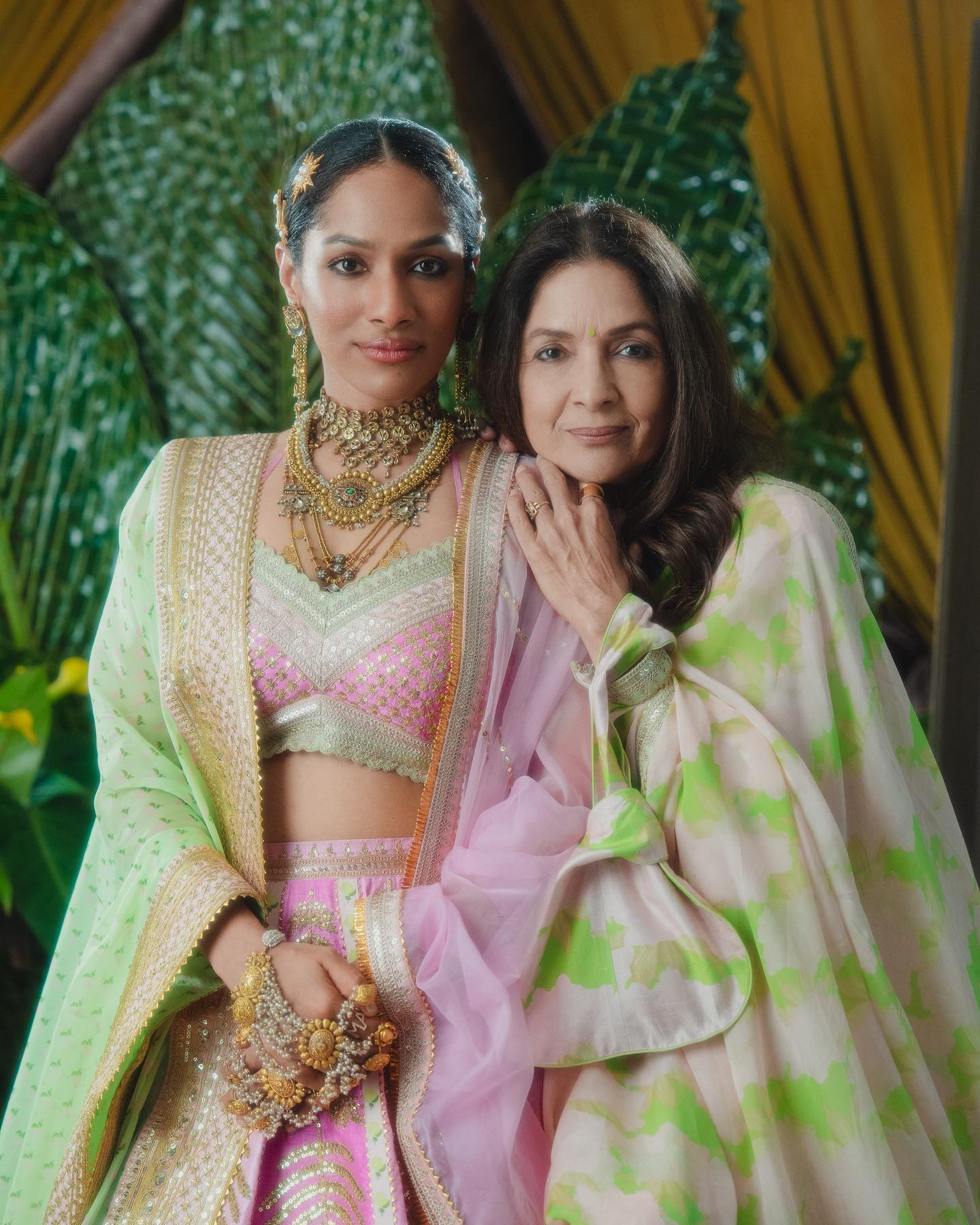 Masaba Gupta's wedding announcement
In the picture, we can see Masaba looking gorgeous in a custom-made #RaniCore lehenga of House of Masaba with her mom's jewellery, while Satyadeep sported a House of Masaba Barfi pink kurta and Pajama set with a bandi. Indeed the couple looked stunning and we bet you would not be able to take your eyes off them. Sharing this picture, Masaba wrote, "Married my ocean of calm, this morning. Here's to many many lifetimes of love, peace, stability & most importantly laughter. And thanks for letting me pick the caption – this is gonna be great!"
ALSO READ: Masaba Gupta looks stunning as a bride, ties the knot with beau Satyadeep Misra